Manatee Harassment
Instances of manatee harassment have been a particular problem in Kings Bay, where multiple warm-water springs form a mile wide body of warm clear water that attracts hundreds of manatees each winter. The warm water and opportunity to view manatees under water also attract over 100,000 visitors per year to swim with wild manatees. Whereas some manatees have become accustomed to divers and even approach them to be scratched, most animals retreat from close approaches.
To date, the U.S. Fish and Wildlife Service (FWS) has allowed divers to touch and pet wild manatees. However, as numbers of manatees and tourists have increased, so too has the frequency of manatee harassment. To better manage manatee-human interactions, the FWS designated all of Kings Bay as a manatee refuge in 2010 and began encouraging "passive" interactions with manatees. While prohibiting certain actions by swimmers; however, the new refuge rules still allow petting and scratching animals that approach people. Concerned that this policy still encourages divers to chase manatees in hopes of touching them and reinforces behavior causing manatees to approach people, the Commission wrote to the FWS on August 22, 2011 recommending that the Service establish regulations to prohibit touching manatees or approaching them closer than 10 feet.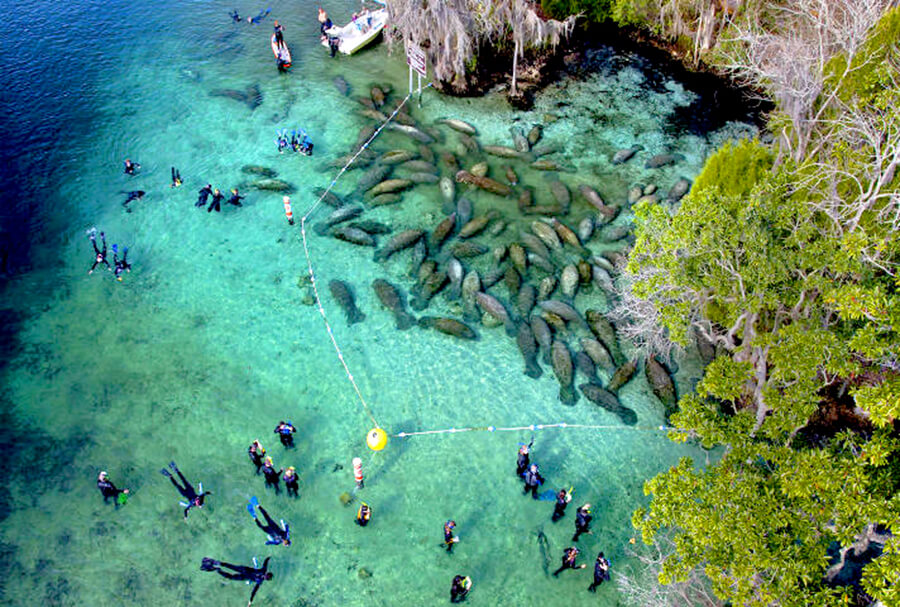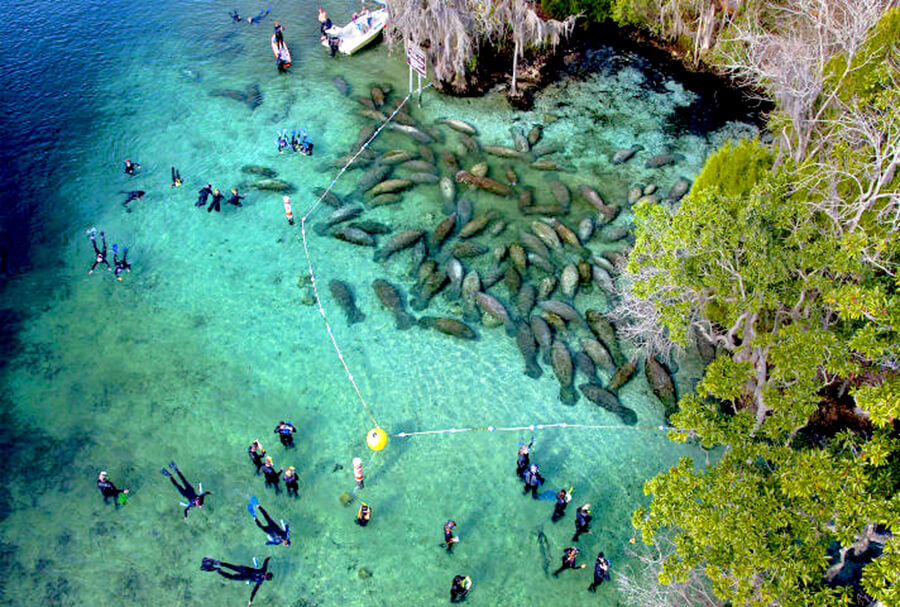 Our recommendations were not adopted and instances of harassment continue to occur. The frequency and effects of people approaching manatees became far easier to document after 2010 when FWS, the town of Crystal River, Save the Manatee Club, and others jointly purchased property around Three Sisters Spring to improve manatee protection. The confined spring covering less than 2 acres features crystal clear, warm water and has become a focal point for both manatees and swimmers in winter. Access to the spring, however, is only possible through a short spring run just 10 to 15 feet wide.  When a boardwalk was constructed around the spring to allow manatee viewing, it quickly became apparent that swimmers and kayakers frequently forced manatees to escape the spring through the narrow spring run that was also often packed with swimmers. To prevent disturbance of resting and nursing manatees in the spring, the Save the Manatee Club petitioned the FWS in August 2014 to designate the spring as a manatee sanctuary with no human access allowed, and to explicitly prohibit people from touching manatees.
In response to the petition, we wrote to the FWS on November 3, 2014, noting the need for immediate action to prevent manatee harassment before the start of the winter manatee season in mid-November. In our letter, we recommended that the FWS immediately institute additional measures to prevent crowding of manatees by kayakers, swimmers, snorkelers in Three Sisters Spring, and that it take steps to advise all people wishing to swim with wild manatees at Crystal River to avoid touching manatees at all times and to back away from any manatees that approach them.
In mid-December 2014, the FWS proposed interim measures to manage human interactions in the refuge, particularly at Three Sisters Spring. In part, it proposed closing the spring during periods of extreme cold pending development of a more detailed strategy for future years. On December 30, 2014, the Commission commented on the proposal recommending that, at a minimum, the interim measures allow for immediate short-term closures of Three Sisters Springs during periods of high manatee use (e.g., more than 50 animals), or if there is evidence that manatees are being displaced from the Springs by human activities. We also recommended that FWS establish limits on the number of swimmers and boats allowed in the Springs at any one time to protect resting or nursing manatees from disturbance. Finally, we recommended that FWS develop and implement a monitoring program to collect information on the use of the Springs by swimmers and kayakers, and manatee response to their presence.
During the remainder of the winter, FWS refuge staff temporarily closed the entire spring on several occasions when temperatures fell to low levels and large numbers of manatees entered into the spring to thermoregulate. On one day, manatee numbers in the spring exceeded 500 animals. We subsequently reviewed management of the spring at our annual meeting in May 2015 At that time, we were advised that additional measures would be proposed in the coming months to further improve protection by the next winter manatee season. To date, the proposed measures have not yet been released.
In August 2015, the staff of the Crystal River National Wildlife Refuge prepared and environmental assessment considering options for managing in water human use of Three Sisters Springs. On 4 September 2015, we returned comments to FWS on its proposal. Based on the comments received, FWS revised its proposal and prepared a revised environmental assessment on which comments were again requested. The Commission commented on the FWS revised proposal on 24 November 2015. As of October 2016, a final environmental assessment has not yet been released and the Refuge plans to continue interim measures under which decisions to close or open the spring would be made on a day to day basis. During periods of extreme cold the spring would be closed; at other times, unrestricted access would be allowed provided manatees were not resting, nursing, or moving in and out of the narrow spring access channel." A decision on long-term management measures is still pending.