Southern Resident Killer Whale
Southern Resident killer whale numbers were cut by more than a third by the live-capture industry in the 1960s and 1970s, but once live capture was banned numbers rebounded by the mid-1990s. However, for unknown reasons the population declined by 17 percent from 1996 to 2001 and little recovery of the population has occurred since.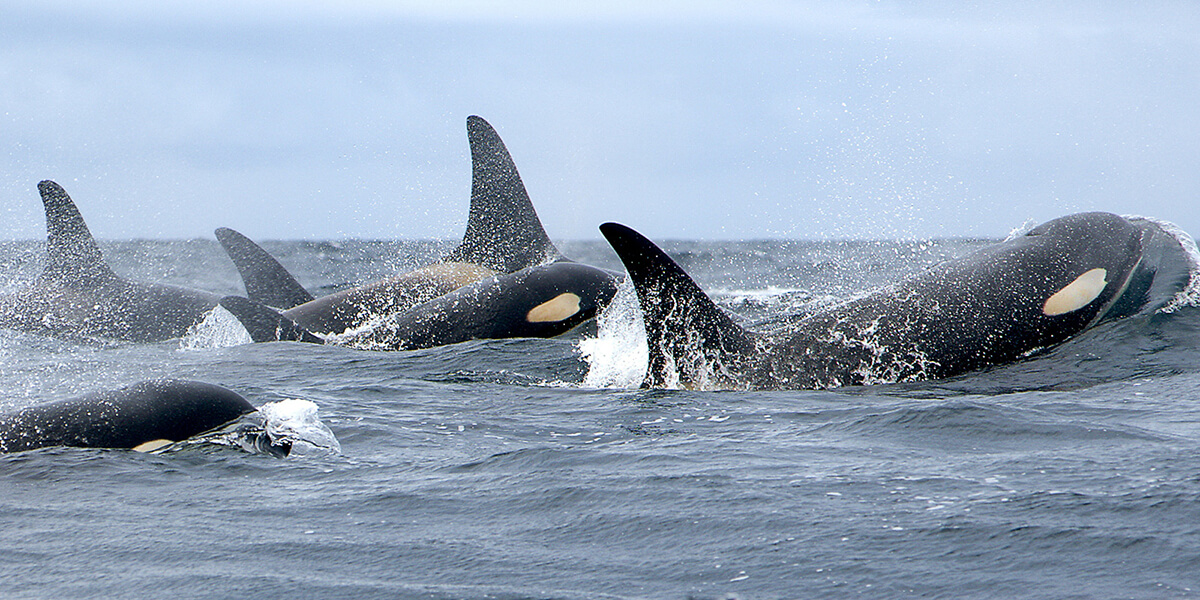 Species Status
Killer whales are found in every ocean around the world, but the species is segmented into many small populations, at least two of which are likely separate species, that differ significantly genetically, and in appearance, behavior, social structure, feeding strategies and vocalizations. In the North Pacific there are three different 'ecotypes' of killer whales. The "Resident" killer whales are fish eaters found along the coasts. "Bigg's" or "Transient" killer whales are marine mammal hunters and are also found all along the North American coast. The little known "Offshore" killer whales, which feed on schooling fishes and possibly sharks, are found mostly along the continental slope. In the eastern North Pacific there are three populations of resident killer whales: Alaska Residents, Northern Residents, and Southern Residents.  Southern Residents, which comprise the smallest population, are found mostly off British Columbia, Washington and Oregon.
The Southern Resident killer whale population may have numbered more than 200 animals prior to the 20th century. However, with modern impacts on their prey base, opportunistic shooting prior to the 1960s, and the capture or killing of nearly 50 whales for marine parks and display in the 1960s and 1970s, the first complete count found just 70 whales remaining in 1974. With the cessation of capture and shootings the population slowly increased to a peak of 96-98 whales in the mid-1990s. However, in just five years from 1996 to 2001 the population declined to 81 whales, which led to its listing as endangered under the Endangered Species Act (ESA) in 2005.
Although it had appeared that Southern Resident killer whale numbers had stabilized after 2001 and may have increased somewhat, declines since 2004, early deaths, and no births for two years created new concerns for the population. Somewhat encouragingly, over the winters of 2014-2015 and 2015-2016, ten births occurred in the population, of which eight have survived through April 2016. Nonetheless, there were just 80 whales in the population in mid-2015, which was no better than the low in 2001 that led to its designation as endangered. By the end of 2015 the total had grown to 84. While the recent increase in births is very positive, almost all of the new whales for which gender has been determined are males. The skewed sex ratio in calves could be anomaly or perhaps an indication that pollutants are affecting the reproductive process in these killer whales. Either way, it will likely have a negative impact on the recovery of the population.
Scientists are uncertain about how many Southern Resident killer whales can be supported by the environment. Although the environment's carrying capacity may have exceeded 200 whales before the 20th century, it may not be able to support that many Southern Resident killer whales now. Like the other fish-eating killer whale populations in the North Pacific, the Southern Residents are dietary specialists on fish, and particularly Chinook salmon. Recent scientific findings suggest that the reproductive and mortality rates of resident killer whales are related to the abundance of Chinook salmon, which has declined significantly from before the era of intense commercial fishing and wide-spread habitat destruction. Modeling studies suggest the modern carrying capacity is roughly 90 whales.
What the Commission Is Doing
The Marine Mammal Commission has long been concerned about the fate of Southern Resident killer whales. The Commission has consulted with and assessed each of the steps taken by the National Marine Fisheries Service (NMFS) to promote the recovery of the population, and has provided recommendations to NMFS for improvements to their efforts. Some of the Commission's recommendations have been to:
Make monitoring of population status a high priority recovery action;
Make monitoring and evaluation of the effectiveness of recovery actions a high priority;
Recognize natural sound characteristics as an essential feature of the critical habitat of Southern resident killer whales;
Implement a precautionary approach with regard to management of contaminants to prevent them from entering the Puget Sound environment;
Undertake an of winter habitat use by Southern Resident killer whales;
Develop regulatory provisions to establish vessel stand-by zones around Southern Resident killer whales beyond the 200-yard approach limit (e.g., beyond 400-600 yards) and limit the number of vessels that can be present between that boundary and the 200-yard approach limit at any one time;
Adopt a regulatory speed limit of either seven knots or, at a minimum, a "slow safe speed" requirement within 400 yards of killer whales;
Develop a monitoring plan to assess compliance with and effectiveness of vessel-approach regulations; and
Include implementation of a "no-go" zone off the west coast of San Juan Island.
Commission Reports and Publications
For more information on the Southern Resident Killer Whale, see the Commission's 2010-2011 annual report (pages 95 – 99).
Learn More
Threats
The lack of clear recovery since 2001 may reflect a lower carrying capacity, but many researchers are concerned that human activities and impacts, in addition to those that contributed to the decline in carrying capacity, are preventing the population from growing further. Declines in some stocks of Chinook salmon could be limiting growth and reproduction, and contributing to a higher mortality rate of Southern Resident killer whale. Southern Residents spend much of their lives in inland waters near numerous sources of pollutants. Some researchers have argued that calf and juvenile deaths, delayed breeding, and now a skewer sex-ration in calves, may be related to the effects of persistent organic pollutants that have accumulated in the fatty tissues of the whales. Southern Resident killer whales have been shown to have high tissue levels of DDT, PCBs and flame retardants, all of which are associated with lowered disease resistance and/or decreased reproduction in marine mammals. The Salish Sea is busy with boat traffic traveling to and from Vancouver, Seattle and Tacoma, and many smaller ports. In addition, the whales are often shadowed by numerous whale watching vessels, which affects the whales' normal behaviors and activities. The impacts of the presence of those vessels and noise they generate have been documented by researchers and NMFS has developed vessel regulations designed to reduce those impacts.
Current Conservation Efforts
NMFS is undertaking a suite of management and research activities designed to enhance the recovery of the population. Those activities include:
Implementation of vessel regulations and guidelines
Support of salmon restoration efforts
Oil spill response preparation
Studies to improve understanding of the impacts of anthropogenic sound
Public outreach and education
Studying year-round movements and diets
Conducting stranding investigations and health assessments
Monitoring the population trend
Following ESA-listing of the population, NMFS designated critical habitat in the inland waters of Washington in 2006. In response to a petition received in 2014, NMFS is now revising the critical habitat designation, taking into consideration the coastal areas of the West Coast that are used by Southern Resident killer whale and important habitat features such as prey availability and anthropogenic sound.
Additionally, in response to a petition, NMFS agreed to include the captive female Southern Resident killer whale known as "Lolita" in the population's endangered species designation. Lolita was captured in 1970 and currently resides at the Miami Seaquarium. Of the members of the Southern Resident killer whale population that were captured during the 1960s and 1970s, she is the only one still alive.
In 2015, NMFS identified eight of the marine species or populations most at risk of extinction, including the Southern Resident killer whale. NMFS will be dedicating itself and focusing its resources on saving these "Species in the Spotlight" from extinction. In February 2010, NMFS released its five-year action plan for stabilizing the Southern Resident killer whale population. Major initiatives include: protecting the whales from harmful vessel impacts, recovery of critical salmon stocks, and protecting critical habitat in offshore water.
In January 2016, NMFS announced the initiation of a new five-year ESA review of Southern Resident killer whales, a process that uses the best available scientific and commercial information to assess the status of the population and the accuracy of its listing classification.